2-DAY PRACTICAL AGRO-COMMODITY EXPORT MASTERCLASS
June 30, 2018 @ 9:00 am

-

July 7, 2018 @ 4:00 pm

N50,000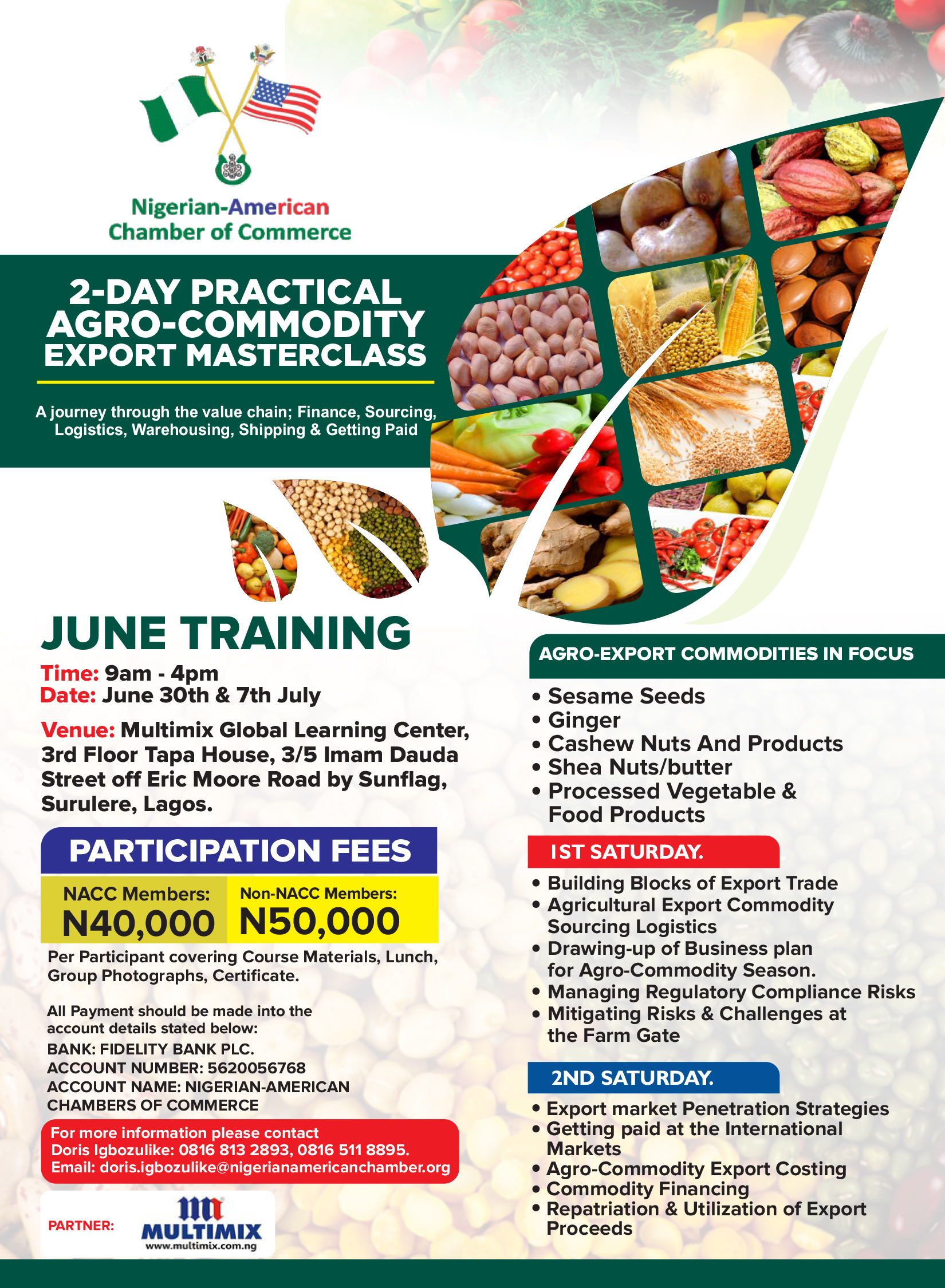 From available statistics, only few countries in the world can match Nigeria's endowment in the area of Natural resources. With a population of over 180 million people, an onshore and offshore that boast of some of the finest deposits of oil and natural gas, a rain forest belt that offers the best cash crops and hardwood and a savanna region with very large tones of oil seeds, coffee, chilies, spices and abundant solid mineral resources.  In fact, the opportunities that Nigeria offers investors in the field of non-oil export are immense and irresistible.
This Masterclass on Nigeria Agricultural Export Commodities is for produce merchants, infant exporters, existing exporters, commodity brokers, foreign buyers, investors, financiers and government export facilitating and inspection agencies. The guide is informed by our experiences in commodity trade and export management consultancy spanning a period of over two decades.
This programme is indispensable for all stakeholders in the commodity export business. The depth of information and research provides basic knowledge to potential and existing traders to take good decisions to enhance their profitability. For the banks, it is an invaluable source to obtain sound information and knowledge about export commodities to minimize risks and protect their highly valued assets.
This project is designed to nurture the practical capabilities of Micro Small and Medium Sized Enterprises (MSMEs) Agro-Commodity exports. The programme will involve interaction with experienced stake holders in the Agricultural export commodity chain; Local Buying Agents, Exporters, Forwarding Agents, Shipping agents and Banks. Facilitators will be drawn from amongst the value chain practitioners. Given the challenging and cumbersome export terrain, the bane of most exporters, the programme will equip participants with the knowledge and skills to grasp the rudiments of practical export operations enhance to profitability and avoid losses.
AGRO-EXPORT COMMODITIES IN FOCUS
SESAME SEEDS
GINGER
CASHEW NUTS AND PRODUCTS
SHEA NUTS/BUTTER
PROCESSED Vegetable & FOOD PRODUCTS
1st Saturday
Building blocks of export trade.
Agricultural Export Commodity Sourcing Logistics.
Drawing-up of Business plan for Agro-Commodity Season.
Managing Regulatory Compliance Risks.
Mitigating Risks & challenges at the farm gate.
2nd Saturday
Export market penetration strategies.
Getting paid at the International Markets.
Agro-Commodity Export Costing.
Commodity Financing.
Repatriation & Utilization of Export Proceeds.
Date: 30th June & 7th July, 2018
Venue: Multimix Global Learning Centre,
3rd Floor Tapa House, 3/5 Imam Dauda Street
off Eric Moore Road by Sunflag,
Surulere, Lagos.
Time: 9am – 4pm
Participation Fees: NACC Member: N40,000
Non-NACC Members: N50,000
To complete registration, please follow the steps below to make payment:
Step 1. Make payment to Fidelity Bank/NIGERIAN-AMERICAN CHAMBER OF COMMERCE/5620056768
Step 2. Email info@nigerianamericanchamber.org to notify us of payment with Name and Phone Number.
It is that simple!!!
For further inquiry call Doris Igbozulike on +2348168132893, +2348165118895 or email: doris.igbozulike@nigerianamericanchamber.org
[gravityform id="4″ title="true" description="true"]