NACC Holds December 2021 Breakfast Meeting On Post-COVID Business Opportunities
December 9, 2021
@
2:30 am
–
6:30 am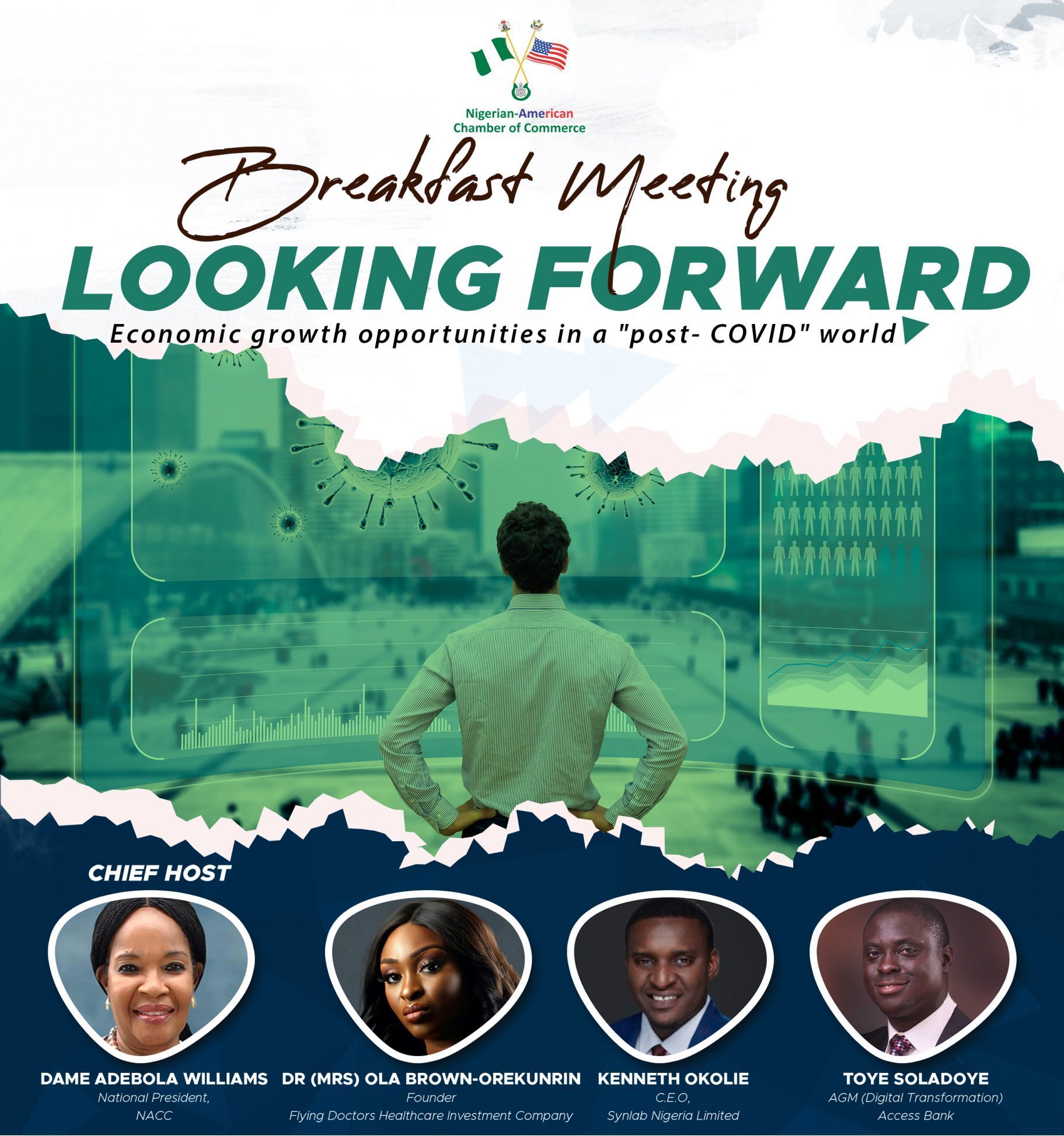 The Nigerian-American Chamber of Commerce (NACC) held its Breakfast Meeting on the 9th  December 2021 at the Lagos Oriental Hotel with the theme 'Looking Forward – Economic Opportunities in a Post-Covid World'.

In his key presentation, Mr Kenneth Okolie, CEO, Synlab Nigeria Limited said 'Economic growth is driven by two main factors; demand and supply, and the pandemic have led to an increase in demand across sectors particularly as economies are reopening globally. Now is the time to innovate from the lifestyle and behavioural changes from the new kinds of demands from COVID-19, and you must recognise the trends and dive into the opportunities therein'.

Okolie noted that 15 months after the onset of COVID-19 had led to an increase in demand in health, technology, trade, and other sectors, leading to an increase in economic growth due to investments in those sectors.

He said, prior to the pandemic, samples for some tests were being flown abroad, a development that led to the loss of tangible foreign exchange and underutilization of local laboratory manpower. Furthermore, Okolie urged Nigerians to embrace pharmacogenetics, a medical procedure that allowed the investigation of genetic profiles on drug compatibility. Also, at the event, Dr (Mrs) Ola Brown-Orekunrin, CEO, Flying Doctors Healthcare Investment Company (FDHIC) moderated the panellist session that also had Mr Toye Soladoye, AGM (Digital Transformation), Access Bank in attendance. Broadly, Nigeria's economic reaction to COVID-19 was discussed, likewise the global influence it has had on economics, trade and technology. Mr Toye Soladoye, who is a multi-disciplined business technology leader also shed some light on the newly-introduced E-Naira by the Central Bank of Nigeria. He dealt on the multiple elements and dynamics that differentiate the E-Naira from Cryptocurrency, emphasizing that "E-Naira is not a Cryptocurrency but a digital currency". The E-Naira is hosted and governed by the Central Bank of Nigeria, unlike Cryptocurrency which is a private Currency and poses some risks amongst which is the lack of economic security. He advised the audience that "before any investment
is made, be it in cryptocurrency or others, one should understand the economics of any exchange and the factors and elements that drive it."

Interestingly, Dr Ola Brown made some predictions that could run into 2023, including possibilities of:
The Nigerian economy growing moderately due to high oil prices in spite of the world seeking alternative sources of energy.
The COVID-19 pandemic would become prevalent with an increase in PCR testing across the world.
There might be stability or further loss in Naira value in comparison to other convertible currencies which could necessitate looking at other investments that are capable of generating foreign exchange.
An encouraging adoption level of cryptocurrency, etc globally and the technology space in Nigeria would thrive by bringing about more opportunities for those interested in the digital space. 
This event, sponsored by Synlab Nigeria Limited had, in attendance, participants cutting across all economic sectors, top business moguls and decision-makers, the media as well as members of the diplomatic community.
In welcoming participants, the National President of the Chamber, Dame Adebola Williams pointed out that global economies had changed since the outbreak of COVID-19, thereby presenting numerous opportunities and threats. She thus charged the audience to take advantage of the opportunities created by the pandemic to stay relevant, sustainable and contribute their quota to economic growth and development. "The world as we knew it is fast fading away as what we have now is the new normal. Businesses must note these opportunities and leverage technology to remain relevant," she said.
The breakfast meeting is a monthly forum by the Chamber that presents interactive opportunities for members and non-members alike to meet and network.