BOOST YOUR BUSINESS WITH FACEBOOK
October 25, 2018 @ 10:00 am

-

4:00 pm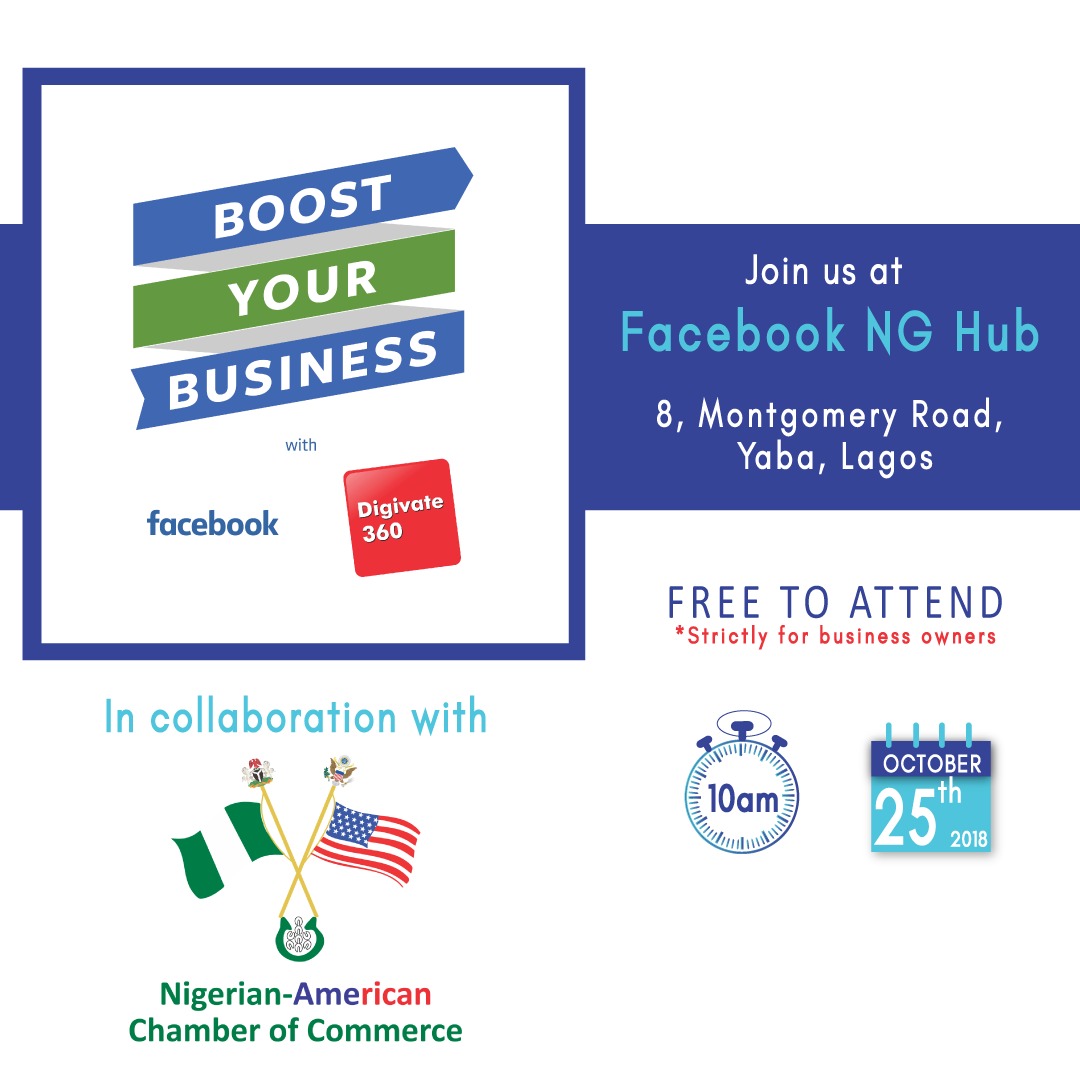 Aside capital and skilled personnel, access to market and lack of sales remain tops amongst the many challenges facing most startup entrepreneurs and business owners in Nigeria today, that is why the Nigerian-American Chamber of Commerce has collaborated with Facebook and Digivate360 to offer the Boost Your Business (BYB) training initiative.
Designed for entrepreneurs, business owners and trade organizations, this training program teaches the fundamentals of digital marketing for business growth. Our goal is to help business owners better understand their brand, their audience, and how to best reach and service their customers online.
The nationwide BYB training program is part of Facebook's ongoing commitment to grow a community of digitally empowered entrepreneurs and business leaders in Nigeria. More than 70 million businesses around the world have a presence on Facebook, allowing them to reach the 2 billion people who visit Facebook monthly to share and connect with the people, places and local businesses that matter to them.
Come, learn and give your business the boost it needs to grow in 2018 and 2019. This training will provide businesses with the most up-to-date tools, insights, and best practices for achieving success online, leveraging the internet and social media. Learn directly from young digital enthusiasts and social media experts, network with other entrepreneurs and business owners, be refreshed, earn a certificate and join our prestigious community of thriving business owners in Nigeria. You will sure walk away with the knowledge, skill and resources; you need to grow your business!
Date: October 25th, 2018
Venue: Facebook NG Hub
8, Montgomery Road, Yaba, Lagos
Participation Fee: FREE
Registration is Mandatory, please complete the form below
Benefits:  
Gain huge brand/product visibility leveraging Facebook and Instagram.
Generate leads and Connect with new customers.
Gain insights to help grow + drive sales.
See your business flourish.
Refreshment.
E-Certificate of Attendance
Join Facebook's community of thriving business owners in Nigeria.
ATTENDANCE IS FREE!
For further inquiries, please email ebuka.ugochukwu@nigerianamericanchamber.org or Call +2348168132893