BUSINESS PROCESS IMPROVEMENT
September 27, 2018 @ 8:00 am

-

4:00 pm

N50,000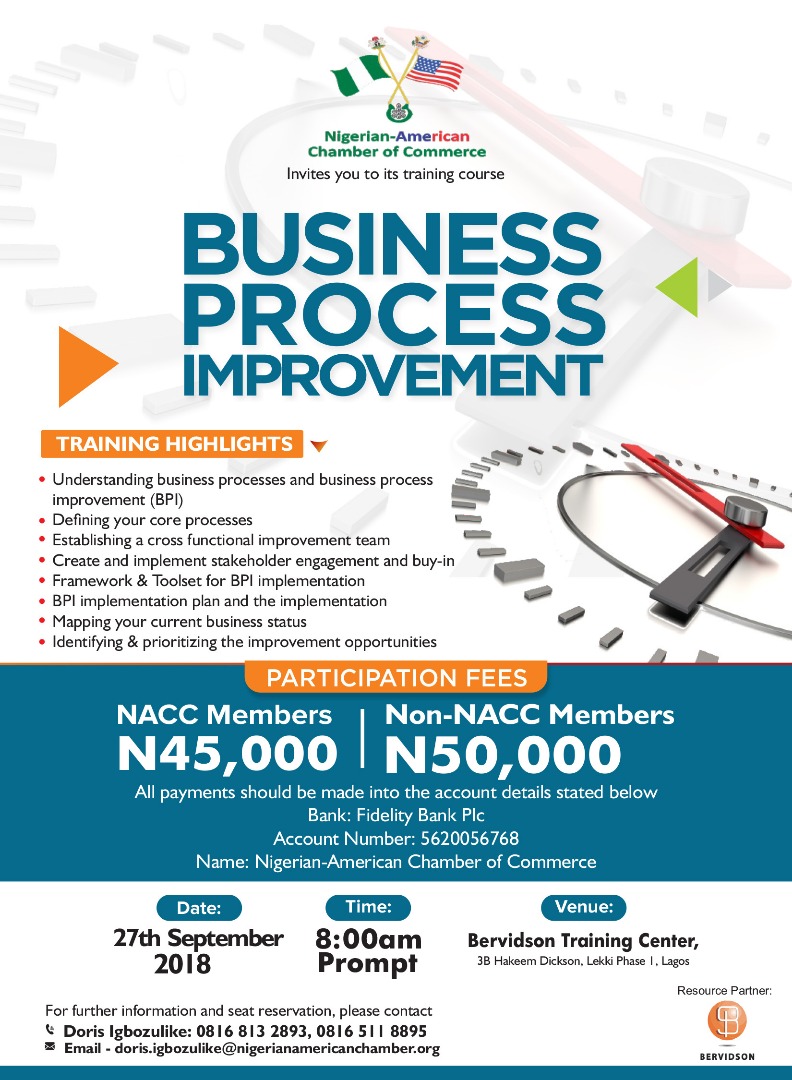 Perhaps no other skill can yield such immediate results and payback than learning how to improve business processes. Business Process Improvement offers a thorough way of aligning your people, processes and systems with the strategy of your organisation and the requirements of your markets and customers.
This workshop draws on proven process management concepts and practices to help you build a framework for continuous improvement in your organization. It explores the need for a business process focus, the essential steps for business process improvement, and the critical success factors for making the effort successful. It provides a practical framework for business process improvement and describes many tried and true process improvement concepts and techniques. Lastly, it provides valuable tips and techniques to introduce process changes effectively, to get the most from your process improvement effort. Presented in a methodology way, participants can easily apply the knowledge and skills to any environment, and use the techniques immediately upon leaving class.
To help assimilate the tools and techniques learned, there is a mixture of individual and team exercises throughout the course. A lively role-play and case study help reinforce concepts learned. participants will need to be prepared for a high level of participation. Is your company, business, venture, division or department a consistent, smooth-running operation characterized by order, discipline and continuous growth? If not, improving your internal processes will surely be a worthwhile investment of your time.
Date: 27th September, 2018
Time: 8am
Venue: Bervidson Training Centre
3B Hakeem Dickson, Lekki Phase 1, Lagos
Participation Fee: Members: N45,000
Non-Members: N50,000
At the end of the workshop, Participants will be able to:
1. Apply a BPI framework in your organization.
2. Identify processes in need of improvement.
3. Create and implement stakeholder engagement and buy-in.
4. Measure improvements using Key Performance Indicators (KPIs) linked to
your business drivers.
Training Highlights
1. Understanding business processes and business process improvement (BPI).
2. Defining your core processes.
3. Mapping your current business status – Current state.
4. Mapping the proposed process – Future state.
5. Establishing a cross functional improvement team.
6. Create and implement stakeholder engagement and buy-in.
7. Working with a team charter.
8. Framework & Tool set for BPI implementation.
9. BPI implementation plan and the implementation.
10. Measure improvements using Key Performance Indicators (KPIs).
11. Dealing with BPI challenges.
To complete registration, please follow the steps below to make payment:
Step 1. Make payment to Fidelity Bank/NIGERIAN-AMERICAN CHAMBER OF COMMERCE/5620056768
Step 2. Email info@nigerianamericanchamber.org to notify us of payment with Name and Phone Number.
It is that simple!!!
For further information and seat reservation, please contact Doris Igbozulike on 0816 813 2893/08165118895  or email doris.igbozulike@nigerianamericanchamber.org
[gravityform id="4″ title="true" description="true"]