MANAGING SMALL & MEDIUM ENTERPRISES (SMEs): The Essentials for Success
November 16, 2017 @ 8:00 am

-

4:00 pm

N25,000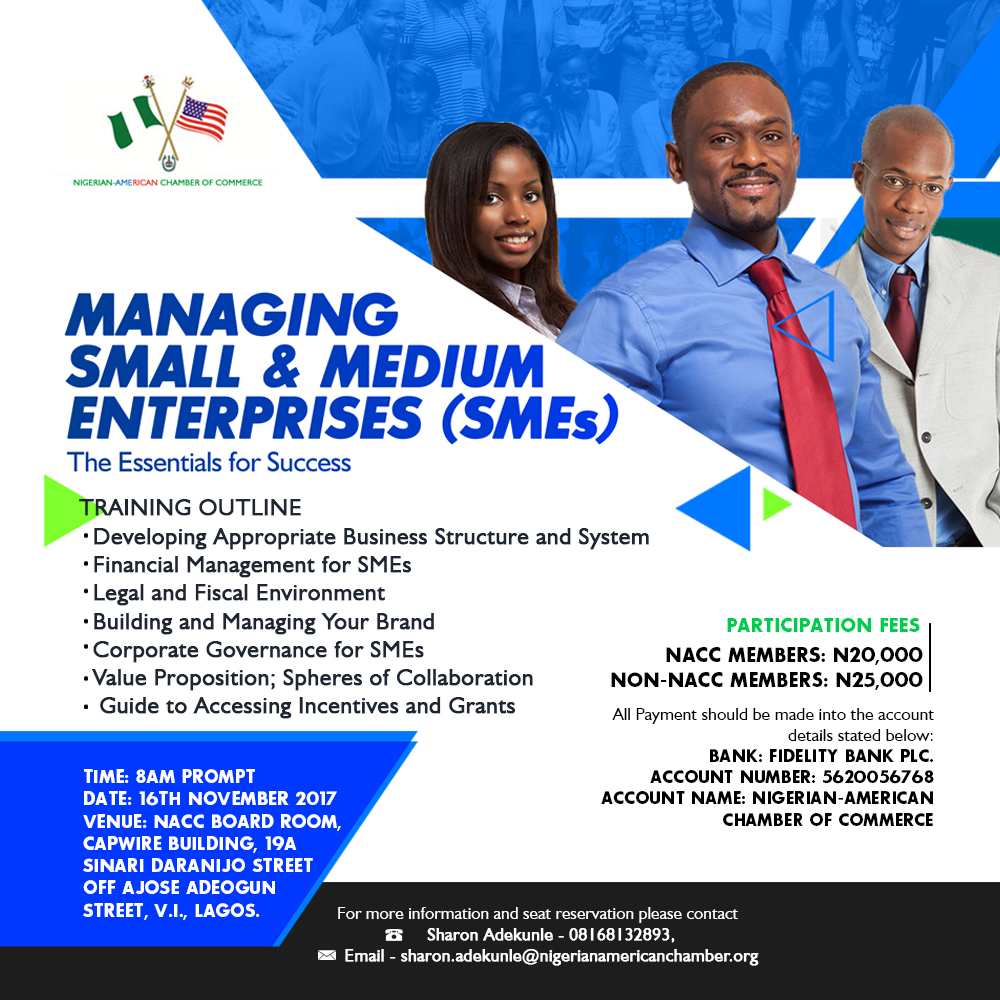 Studies have shown that failure rate among SMEs in Nigeria is very high within the first five years of existence. Poor managerial capacity of many SME owners has been identified as the greatest reason for this. Other environmental factors include access to finance, inadequate infrastructure, government policy inconsistencies and bureaucracy, multiple taxes and levies, among others. Many SMEs are not business specific, hence have no focus and are easily blown away.
This training is geared at equipping budding managers and owners of SMEs with critical know-how required to ensure success in the business space. The programme is specially designed to address the requirements for running efficient and profitable businesses. The content was borne out of experience and focused studies on the general and peculiar factors responsible for failure of SMEs in Nigeria.
Learning Outcome
At the end of the course, participants will:
Learn critical strategies and know-how of running successful SMEs.
Be enlightened on need for appropriate business structure and system.
Be exposed to fundamental structure and system required in every business setting.
Become enlightened on dangers of mixing the personal with business.
Discover importance of and how to keep proper accounts for their business operations.
Discover various legal and fiscal factors affecting SMEs in Nigeria.
Be educated on incentives open to SME operators in Nigeria.
Understand importance of branding and brand management.
Learn to instill strict corporate governance in their organization.
Be assisted to discover their spheres of collaboration needed to generate partnership opportunities.
Course Outline 
Developing Appropriate Business Structure and System
Financial Management for SMEs
Legal and Fiscal Environment
Building and Managing Your Brand
Corporate Governance for SMEs
Value Proposition; Spheres of Collaboration
Guide to Accessing incentives and Grants
[gravityform id="4″ title="true" description="true"]