SALES SKILLS FOR EFFECTIVE RESULTS WORKSHOP
September 4, 2018 @ 8:00 am

-

September 5, 2018 @ 4:00 pm

N100,000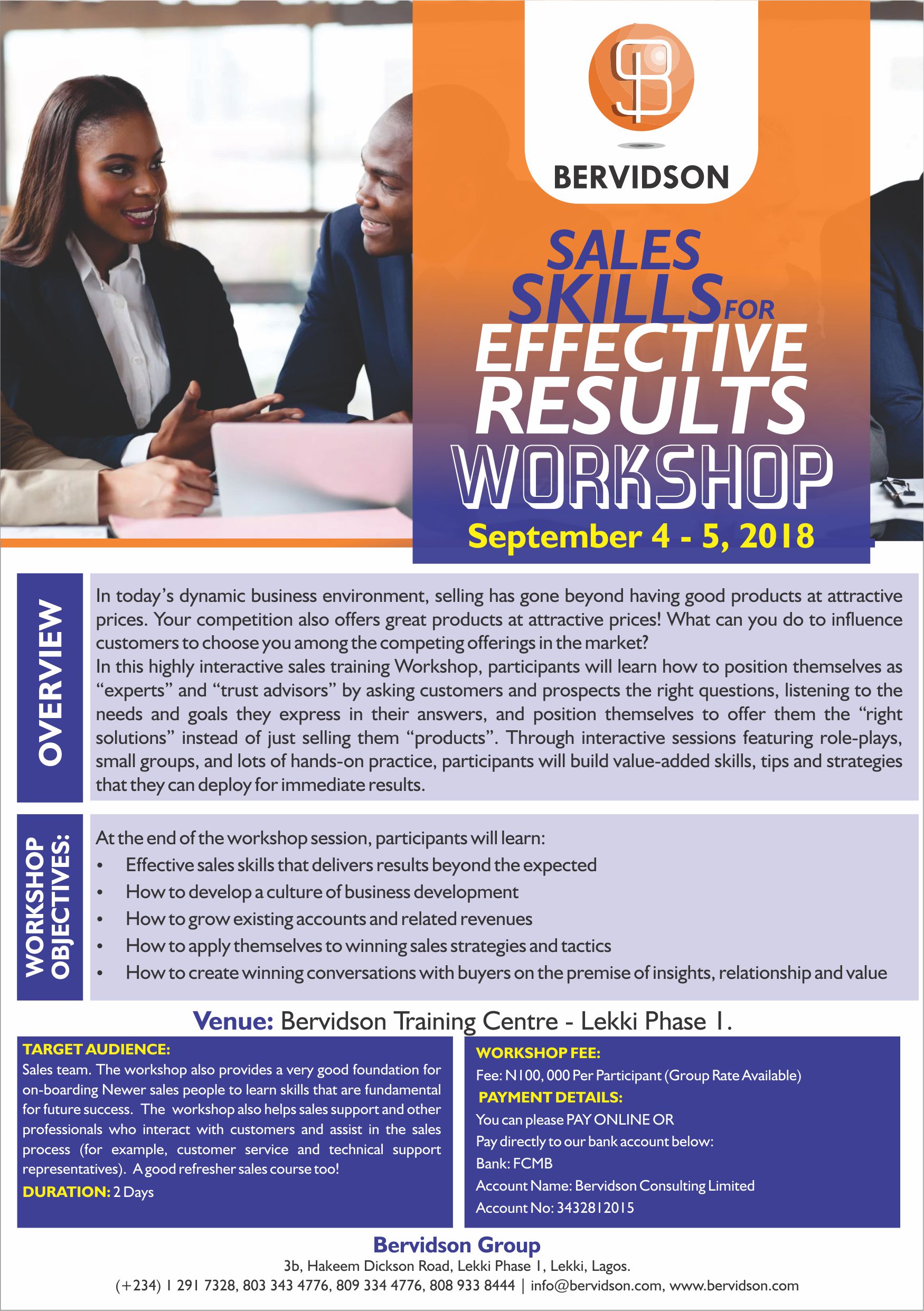 Building successful and sustainable organisations demand that the experiences of customers as they interact with your brand, product & services and people across multiple touch points is both positive and memorable.
In recent years, organisations have become aware of the need to create value for their customers in the form of great service and experience. Increasingly, they are recognising that the complete service and experience enjoyed or endured by their customers is critical to customer retention, growth and profitability. However, customer service and experience management remains a huge challenge for many organizations. Success requires the total commitment of the entire organisation from the leadership/management to the team and this must be reflected in the culture of the organisation and mindset of everyone in the organisation.
Is your organization's commitment to customer service and experience  effectiveness, excellence, satisfaction reflected in each and every member of your team? In each and every customer contact?. How your entire team deliver legendary service, maximize customer retention and sustain the momentum of success will impact your organisation's revenue, profitability and growth.
Bervidson Group recognizes the power of a focused, energized and synergized customer service organization with a complete offering of customer service training programs. Customer Service Excellence Workshop, arms your team with superior sales skills, communication techniques and a deeper understanding of the impact and importance of customer service to your organisation's success. Your entire team will be engaged to help your company reach its full potential after participating skiils and techniques gained in this workshop.
This is completely sales-integrated results-oriented workshop that give your team the skills and confidence to convert prospects into customers, increase retention, loyalty and advocacy. By equipping your team with the strategies and methodologies acquired through this workshop, your entire team will increase their sales, grow margins, build strong customer relationships, and demonstrate your organization's commitment to service excellence in every customer contact.
Combining the power of experiential learning and visual models, this workshop ensures that participants will immediately apply what they learn. The workshop is customized to address your organization's specific needs and challenges.
WORKSHOP OBJECTIVES
At the end of the workshop session, participants will learn:
The business impact of effectively managing you customer's "Moments of Truth" in every interaction.
How to leverage a powerful, customer-focused communication strategy to maximize the positive outcome of every service engagement.
A simple, flexible format for uncovering additional business opportunities as a natural outcome of providing outstanding customer service.
Date:
 4th – 5th September, 2018
Venue:
Bervidson Training Centre
3B Hakeem Dickson Road, Lekki Phase 1, Lagos Nigeria
Time:
9:00 AM
Fee:
N100,000 Per Participant (Group Rate Available)
To complete registration, please follow the steps below to make payment:
Step 1. Make payment to First City Monument Bank (FCMB)/Bervidson Consulting Limited/3432812015
Step 2. Email info@bervidson.com with Name and Phone Number.
For further inquiries on participation, please Call +234 803 343 4776, +234 809 334 4776, +234 808 933 8444 or email info@bervidson.com
[gravityform id="4″ title="true" description="true"]