SME eBUSINESS FAIR 2018
February 3, 2018 @ 9:00 am

-

7:00 pm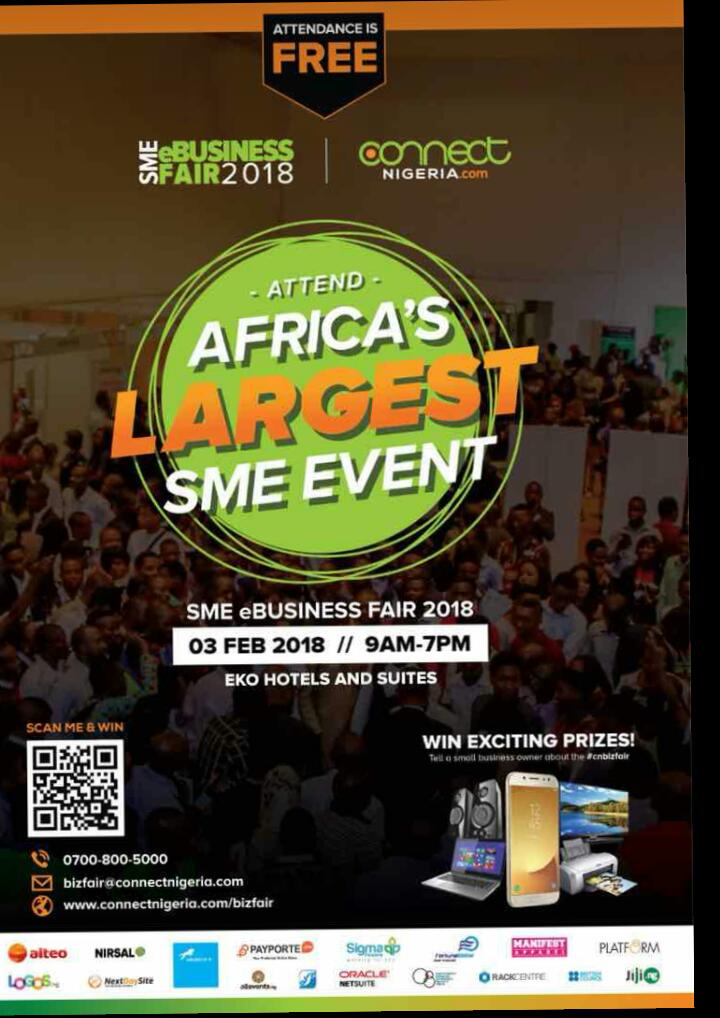 The SME eBusiness Fair 2018 is the Largest gathering of SMEs and Africa's Largest SME event.
The exhibition provides a platform for big businesses and fast growing SMEs to promote their brand and engage with thousands of new customers. It's also the best platform to reach your target market.
The SME eBusiness Fair attracts thousands of business owners, professionals and entrepreneurs from different sectors of Nigeria's economy.
40% off Exhibition cost for NACC Members and 30% off Exhibition cost for Non-Members
Exhibition Cost: N100,000 (N60,000 for NACC Members and N70,000 for Non-Members)
This includes
* An exhibition table & chairs
* Logo on the backdrop banner of the Made in Nigeria sector
* 1 dedicated email blast of your services/business to our contact database
Want to Exhibit? please call 08134678162/08168132893 or email ebuka.ugochukwu@nigerianamericanchamber.org
Exhibitor Category
Non-Profits, Fashion products, Manufacturing, Real Estate Technology, Banking and Finance, ICT, Power, Education
Deadline for exhibition booking is Thursday, 01/February/2018
TESTIMONIALS FROM 2017 FAIR
"It's been a very good one, everybody was interested. The turnout has been overwhelming as well."
Bidemi Ladipo Head Enterprise Marketing Etisalat 
"The business fair event was a good outing directed at SMEs in Nigeria and the quality of execution from pre-event publicity via several platforms to the insightful panel sessions and to the elaborate showcase of SME-oriented solutions by several exhibitors. Everything done showed a high level of efficiency and professionalism. This is the best event I have attended."
Femi George Microsoft 
"I love the energy, so many businesses, so much energy, SME's are always looking to use technology to advance their businesses, and its very exciting to be amongst everyone here today."
Bankole Oluwafemi Techabal
Treat every opportunity like it's your ticket to bumper harvest!
For inquiries and additional information, please call 08134678162/08168132893 or email ebuka.ugochukwu@nigerianamericanchamber.org
Attendance is Free!!! Click link below to register.
www.connectnigeria.com/bizfair
[gravityform id="4″ title="true" description="true"]