THE RETAIL LEADERS CONFERENCE 2019
June 20, 2019 @ 9:00 am

-

5:00 pm

N100,000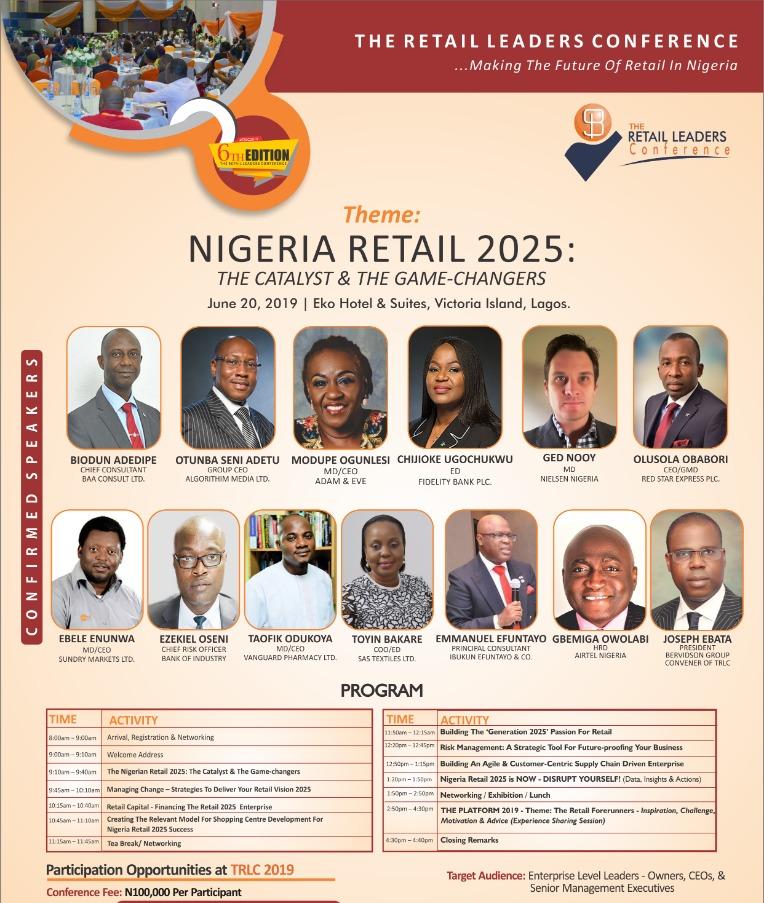 Join us at the 6th edition of The Retail Leaders Conference – TRLC 2019, holding on June 20, 2019 by 9:00 am at Eko Hotels & Suites, Victoria Island Lagos with the theme: "Nigeria Retail 2025 – The Catalyst & The Game-Changers"
The 6th edition of The Retail Leaders Conference, TRLC 2019 seeks to explore the deep implications of key shifts in social structures and consumer aspirations, behaviour and preferences critical to retail success; and retail leaders' ability to successfully secure a respectable place within the complex ecosystem as the Nigeria retail industry progress towards the year 2025.
This Conference will help retail leaders to develop a new mind-set about the future, and by implication the actions they need to take now in other to secure a firm place of respectable growth, relevance and leadership in the future. It is about exploring a wider and deeper perspective of the Nigeria retail industry, and how retail leaders can deliberately create the future that they so desire for the industry, and in particular their retail businesses by the year 2025 and beyond.
The future of the Nigeria retail industry is constantly evolving and may seem uncertain, but it is exciting and profitable for those who start to adapt now, and very exciting for those who will embrace "the catalyst and the game-changers!"
Date: June 20th, 2019
Venue: Eko Hotels & Suites, Victoria Island Lagos
Time: 9:00am – 5:00pm
Participation Fee: N100,000 (10% off for NACC Members)
TARGET AUDIENCE
The Retail Leaders Conference brings together key stakeholders, enterprise level leaders, decision makers, in retail industry and B2B leaders seeking partnership opportunities (owners, c-level executives and senior managers in retail and retail supporting organisations).
1. Companies/ Organisations
Retail
FMCG
Telecom
Banks & Other Financial Institutions
Manufacturing
Retail Service Providers
Government/ Regulators/ MDAs
2. Leaders
Owners/ CEOs
Commercial/ Marketing/Sales Directors/ Executive Directors
C-level and other Senior Executives
General Managers, Divisional Manager & Senior Managers
WHY NIGERIA RETAIL 2025?
The 2nd edition of The Retail Leaders Conference, TRLC 2015 marked the beginning of "The Future of Retail in Nigeria" series during which we threw a 10 year challenge to retail leaders in the country, urging them to take a 10 year view of their retail enterprise and the Nigeria retail industry in general, with a view to futureproofing their retail enterprise while maximising emerging growth opportunities.
We therefore envisioned and set 2025 as a critical year that retail leaders must look to and seek to secure a firm place of respectable growth, relevance and leadership, or face the hard reality of becoming history. As key actors and stakeholders collaborate in proffering solutions to the challenges and opportunities of the operating environment, the year 2025 will indeed usher in, and define the new era of retail in the Nigeria.
[gravityform id="3″ title="true" description="true"]