U.S.-AFRICA BUSINESS SUMMIT
June 18, 2019 @ 8:00 am

-

June 21, 2019 @ 5:00 pm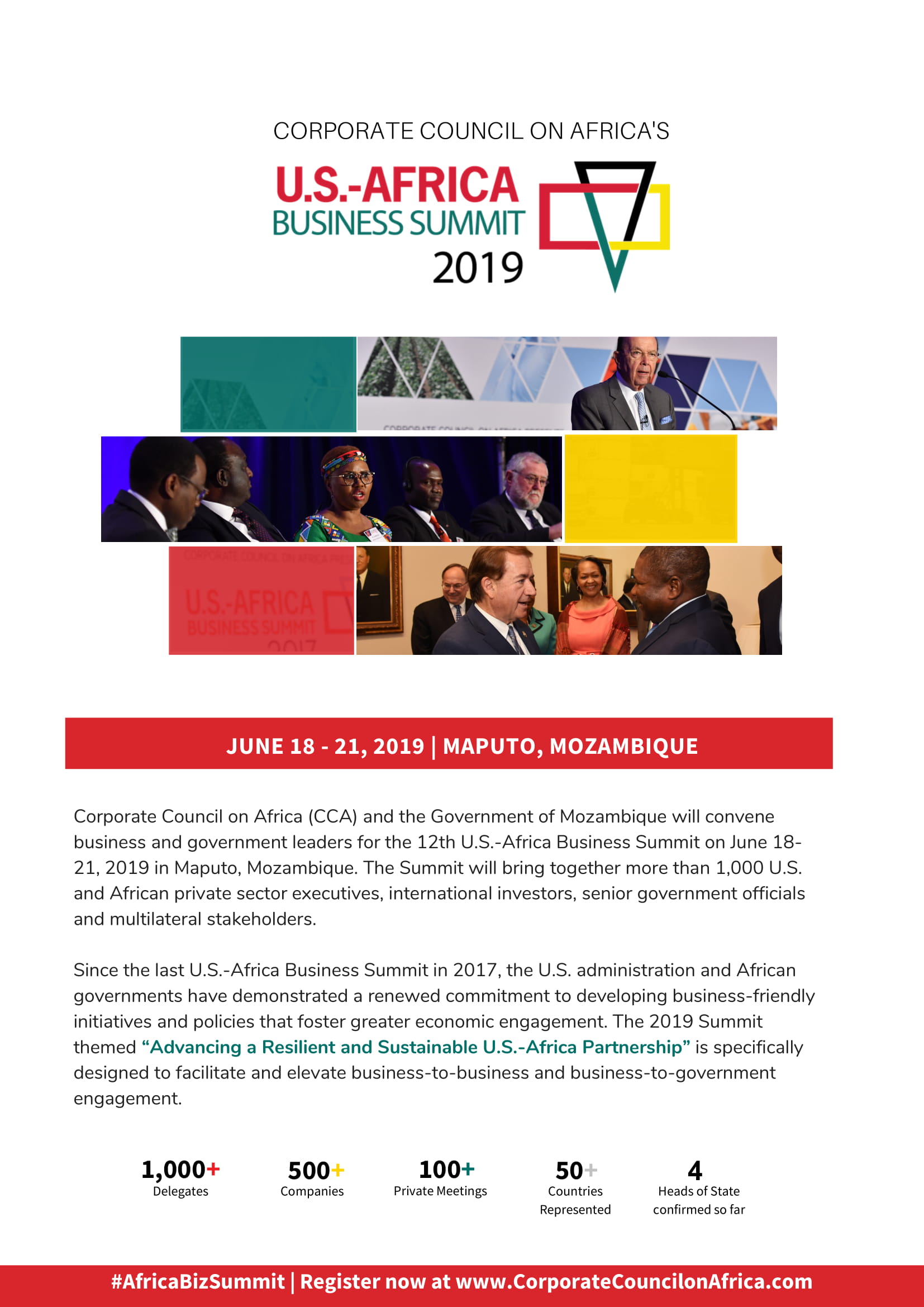 Corporate Council on Africa presents U.S.-Africa Business Summit
Venue: Joaquim Chissano International Conference Center
Maputo, Mozambique
Date: June 18 -21, 2019
Learn More | View Program
Corporate Council on Africa will host the 12th U.S.-Africa Business Summit on June 18 – 21, 2019 in Maputo, Mozambique. The Summit will bring together more than 1,000 American and African private sector executives, international investors, senior government officials and multilateral stakeholders.
The multi-day conference will address the rapidly evolving models for business and investment in the continent's most promising sectors including Agribusiness, Energy, Finance, ICT, Health, Infrastructure, Housing, Aviation, and more. With four heads of state confirmed so far, the Summit promises to be a valuable experience.
WHAT TO EXPECT
The 2019 Summit themed "Advancing a Resilient and Sustainable U.S.-Africa Partnership" is specifically designed to facilitate and elevate business-to-business and business-to-government engagement. The 2019 U.S.-Africa Business Summit Highlights include:
WHY ATTEND
Since its inception in 1997, the U.S.-Africa Business Summit has been considered the essential conference for anyone doing business and investing in Africa.1. ACCESS high-level American and African government representatives including Heads of State and Ministers.
2. CONNECT with a trusted network of American and African business professionals and executives
3. EXPLORE best practices and industry-tested solutions to business challenges in key sectors.
4. DISCOVER investment opportunities, business deals and new business partners.
5. ADVOCATE to shape effective U.S.-Africa business and investment policies.
REGISTRATION RATES
CCA Members: $600
Non Members (Africa) Private Sector: $1,300
Non-Members (North America, Europe, Asia) Private Sector: $2,000
U.S. and African Government: $700
Click Here to REGISTER
20% discount code available, Call 08168132893
INQUIRIES
For Sponsorship Opportunities, please contact Carla Battle on cbattle@corporatecouncilonafrica.com