Most Nigerians are aware that our economy is in dire straits. The economic indices bear witness. Low oil prices, foreign exchange scarcity resulting in rationing, low Naira value against foreign currencies, growing, inflation, chronic fuel scarcity, electric power scarcity, worsening unemployment and overall low GDP growth. Many other comparative indices are also on the decline; Foreign Direct Investment (FDI), Global competitiveness index (GCI), and Ease of Doing Business while the misery index has worsened. Those Nigerians who do not understand the economic jargons experience the misery index.
This current economic crisis has been caused by the wrong choices we have made, most in the past and others in the present. President Muhammadu Buhari (PMB), blamed it on two issues; squandering of our National Patrimony and the fall in oil prices. Squandering of our National patrimony arose from the choices our leaders have made over time. And even the impact of the low oil prices has been aggravated by the poor choices our leaders made including those in power today. For example I know some current ministers and Senators who as governors led other governors to fight the Federal government for establishing the excess crude account. I know some governors who are still governors who led the battle to stop the Sovereign Wealth Fund. They were not interested in saving for the rainy day. They wanted all oil income in the federation account shared so that they could spend them. So it all comes down to choices. We made plenty wrong choices, some criminally wrong, including stealing and embezzling money meant for development at all levels- Federal, State, local ; Public and Private sectors; governmental and nongovernmental organizations.
It is under this miserable economic milieu, that I see the 2016 budget of 6.06 Trillion approved by the National Assembly last week as a unique opportunity to begin the economic revival of our Nation. Since the coming of PMB, many Nigerians have been waiting for the right change to happen in their lives and wellbeing and I am eager that we do not blow this opportunity. I say so, because severally in the past, hopes had been raised at the precinct of a new budget, but miserably dashed by shoddy implementation. Here therefore are a few of my thoughts on how we can make this budget a turning point for Nigeria's economic revival.
IDENTIFY, ISOLATE AND QUICKLY IMPLEMENT POLICIES
  Every budget has two sides: income and expenditure; and Policies. Today, if you ask me what is the more important, I will say the policy side. We need the fiscal policies and other policies including incentives that will drive investment Behaviour. Early and holistic implementation of these policies will act as real stimulus to economic revival. To most investors, Nigeria seems to be operating without a discernible policy framework and direction. It is my sincere hope that this budget will change that perception.
BUDGET MUST BE CASH- BACKED IN A TIMELY MANNER
 We all know that a major bane of our Budget implementation over the years has been the sometimes inexplicable delay in releasing funds for the programs and projects included in the budget. I have found it incongruous to hear that Q2 cash releases are effected in the 4th Quarter. So you wonder if we were ever serious to fully implement the budget. All the years of the Obasanjo Presidency and even during Jonathan's tenure, budget cash releases were often very late and misaligned. With plenty of cash held up in the TSA, and with one quarter gone, I recommend that Q1 and Q2 cash releases should be effected immediately, so that a flurry of activities can resume urgently, creating the needed impetus and momentum for economic revival.
KEEP FOCUS ON KEY PERFORMANCE INDICATORS (KPIs)
 President Jonathan introduced the innovation of signing performance objectives and standards contract with his ministers, with the urging of the minister of National planning- Shamshudeen Usman. But I did not see a follow through where the performance review was made and actions taken against those falling behind, therefore, the intended benefits were not achieved. My hope is that our MDAs have sequenced their programs and projects on quarterly basis. The President will have to demand quarterly measurement of their achievements and quickly relieve those that are falling behind. There is so much distance to cover and there should be no space for laggers. At least not in 2016!
INSTITUTE VALUE-FOR MONEY AUDIT ON A REGULAR BASIS
 Most Nigerians are aware that sometimes money is spent and we do not get value as a Nation. Many commentators have shuddered at the dismal performance of the Nation, even after trillions of Naira had been spent over the years. We should therefore institute a value for money audit that will regularly measure expenditure against deliverables. The public procurement act should be implemented in spirit and in truth. Often the whole process is a charade, aimed at deceiving the uninitiated. President Buhari must insist on this, since he is still working with Nigerians and not Angels.
DELAY GRATIFICATION FOR PARTY FAITHFUL
 It is no secret that many Politicians are in the ruling party for what they will personally benefit. That is why some will never be in the opposition. We know that many, who 'invest' their money supporting parties and candidates, do so with their eyes on extracting 'returns on their investment'. It is also an open secret that every party in power must save up money in preparation for the next election and they do so through patronage. All these may be legitimate in the eyes of the politicians. But my recommendation is that we should defer gratification of party supporters and get the best contractors, suppliers, professionals and service providers to implement budget 2016. It is very critical that we lay the right foundations for our economic revival. Luckily 2019 is still 3 years ahead!
DELIBERATELY COURT PRIVATE SECTOR INVESTMENT 
 The only way, budget 2016 will achieve its objectives and serve as a turning point for Nigeria's economic revival is to have a concomitant bullish private sector investment. Therefore the government must be painstaking in attracting private sector investments- local and international. And having attracted them, every effort must be made to remove every inhibition, obstacle or bottlenecks. In all sincerity our public service machinery must be so orientated to appreciate this fact. For now we do not have the right orientation. Our President can travel the whole World and our ministers can attend all the investment conferences and road shows around the globe, we will still not have the right quantity and mix of investors, unless we understand how to make doing business in Nigeria easy. Recently a company I associate with retrenched 120 staff and was virtually out of production from September last year to February this year, just because, a user license to enable them clear one of the imported raw materials could not be issued from an agency of government. Were it not for the kind responsiveness of the Minister of Industry, Trade and investment and his staff, the factory will have closed by now. I do not know how we can solve this problem, but we must try and focus on it. Doing business in Nigeria for most people is a harrowing experience. Even the Chinese and Indians still complain!
GOVERNMENT MUST DO ITS BEST TO UNITE THE NATION & BRING PEACE
 There is no gainsaying the fact that without unity and peace in the Nation, the best of budgets or economic policies will never be achieved. It is good that the government is gradually resolving the Boko Haram insurgency in the North East. But they must ensure that the Niger Delta militancy does not rekindle. They need to resolve the seething anger of the Indigenous Peoples of Biafra (IPOB). Currently, the Fulani herdsmen or those who pretend to be them seem to have become a major destabilizing force in Nigeria. At one time, the problem seemed to be contained in the middle belt, but it is now spreading dangerously to the South West and South East. These are just some of the flash points that can derail our economic revival. Money for development should not be used to fight internal wars. I advise Mr. President to set up an office of HOMELAND UNITY & SECURITY and people it with experienced and detribalized Nigerians who can get to the root of all these challenges and deal with them in a holistic and permanent basis. Threatening the people or speaking in divisive language or taking discriminatory actions will not solve our problems. Let us give every Nigerian a sense of belonging.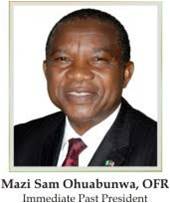 Mazi Sam Ohuabunwa OFR